Toilet Repair Lewisville TX
Toilet repair is another thing that our plumbers are more than equipped to help you with. When your toilets begin to break down and stutter, it can be very trying when you need some help. If your commodes require some professional attention, let our plumbing team know so you can have Lewisville support on your side.
Toilet Repair Services You Can Count On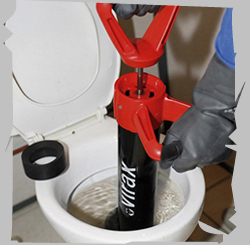 Bathroom toilets are some of the most important plumb devices that you will encounter in your time on this earth. We as Texans depend on these fixtures to work perfectly each and every time we use them. As a result, it can be very frustrating when you try to flush and something unexpected happens.
Do you have a leaky toilet that is making a lot of messes after flushing your unit? Maybe you're trying to flush your commode but you keep running into leaks that pool around the base. If this happens, you could be wasting a lot of extra water just because you have a loosened seal underneath your base.
We Can Unclog Your Toilets
Unclogging a toilet is something that you might have a lot of trouble with. Has your commode clogged and your plunger isn't enough to get it removed? Even though plungers are great things to have, they're not the answer to each and every problem. If you're looking for something a little better, our plumbers have snakes that can remove your clogs.
Don't let your toilet problems get the best of you. Texas toilets are some of the best things that this country has ever given us. We owe it to them to upkeep their components and make timely repairs and replacements when necessary. If you'd like to stop your troubles from taking over your bathroom but you need a little help, call our plumbers.